Welcome To SA Engineering Corporation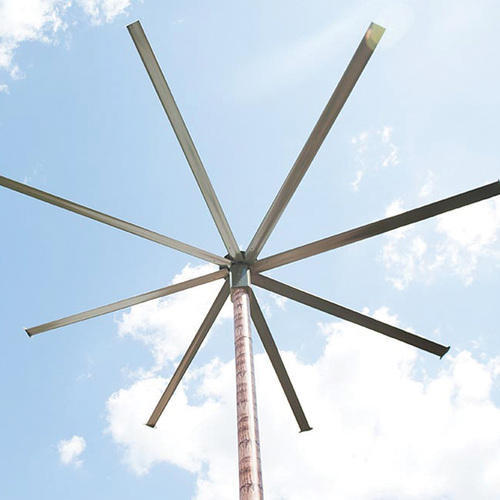 A Pole-Mounted HVLS Fans can reduce the felt temperature by up to 10 degrees F when utilized to offer comfortable cooling for individuals. This is due to adiabatic cooling, which occurs when air moves across a person's skin and evaporates sweat. The amount of adiabatic cooling that occurs and the cooling impact that the individual feels is determined by the air velocity. HVLS fans created by Pole Mounted HVLS Fans Manufacturers are ideal for comfortable cooling because they can give the most adiabatic cooling effect over a big area by moving air at the optimum velocity.
Steps to Install Pole Mounted HVLS Fans
S A Engineering Corporation is a Large Pole Mounted HVLS Fans Suppliers. Before installing a Pole Mounted HVLS fan for comfortable cooling, Pole Mounted HVLS Fans Suppliers mention a few things. To begin, in a non-air-conditioned institution, the ventilation system must be enough to maintain the same temperature inside as outside. A building's solar heat load can make it substantially hotter inside, and this solar heat load must be eliminated before a Pole Mounted HVLS Fan can be installed. The second factor to consider is that, since the fan offers a cooling effect rather than changing the air temperature, it should be placed somewhere where the air movement can be felt. Pole Mounted HVLS Fans Exporters make sure you get the most out of an HVLS fan, you should put it somewhere with a lot of people.
Benefits of Pole Mounted HVLS Fans in India
Require very less investment, because of its low purchasing, operating and maintenance expenses.
Using 3 Phase Large HVLS Fans will reduce energy consumption and assist in removing heat, humidity and contamination from the environment.
Due to its silent operation, Industrial Fans makes no disturbance.
Ensure energy efficiency & comfortable cooling.
Have endurable working life and are best for several applications.
Product Details:
| | |
| --- | --- |
| Phase | 3 Phase |
| Number of Blades | 8 |
| Power Type | DC |
| Brand | Strome Air |
| Material | Iron |
| Noise Level | 45 dB |
| Airflow Displacement | 150000-400000 cfm |
| Maximum Effective Coverage | 3000-5000 sq. ft. |
We are engaged into manufacturing of BLDC, HVLS, High speed low speed gearless fans for Industrial and commercial needs covering large space and having high efficiency.
Get a Quote