Welcome To SA Engineering Corporation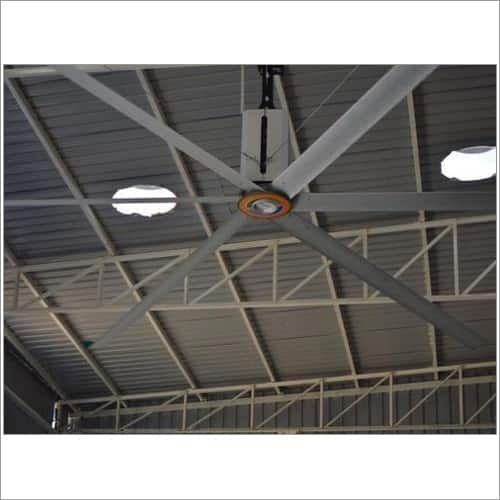 Because the hot, humid air creates unpleasant conditions, people who work indoors, such as in workshops, warehouses etc, will feel stuffy and stagnant air. Using an industrial ceiling fan will create circulation and natural air to cool the whole space. Large Industrial Ceiling Fans Manufacturers make sure of the quality before packaging. A large ceiling fan continues to push forward and produce a large amount of air blowing the ground, the airflow to both sides of the flow, the information of the large area of the airflow, through the control of the fan, gets the average wind of unnatural 1-3 m/s comfortable cool wind. The breeze blowing in the human body will promote the sweat away to take away the heat, leaving the body gradually cool, and bringing comfort. Usually, this cooling can feel about 3-5 degrees.
Large Ceiling Fans – A need of every industry
S A Engineering Corporation is a Large Industrial Ceiling Fans Suppliers. They are mainly used in large and high places like workshops, warehouses, distribution centres, gymnasiums, stations, farms and so on. Suited for Factories, Warehouses, Retail stores, Agricultural, Greenhouses, Garages, and high moisture applications. We also offer Industrial Ceiling Fans. Get in touch right now to know more about our products.
Highlights of Large Industrial Ceiling Fans
These large ceiling fans consume low energy and have German-brand motors. They have specialized different pattern blads with different lengths and down rods based on your building details. Large Industrial Ceiling Fans Exporters have used a powerful motor that drives the fan blades to move large volumes of air and has high-performance bearings for longer shelf life. We, at S A Engineering Corporation, assure to supply the best Large Industrial Ceiling Fans In India. Industrial ceiling Fans are mounted to a ceiling to circulate air from overhead, so they don't take up floor space. These air circulators are commonly used to cool machinery and help keep people comfortable in manufacturing plants, warehouses, and other areas with high ceilings and large floor space.
Product Details:
| | |
| --- | --- |
| Phase | three |
| Power Type | AC |
| Material | Stainless Steel |
| Volume to be ventilated | 5000-6000 sq. ft. |
| I Deal In | New Only |
| Location | India |
We are engaged into manufacturing of BLDC, HVLS, High speed low speed gearless fans for Industrial and commercial needs covering large space and having high efficiency. If you are planning to buy HVLS Industrial Fan, place your enquiry. We are the leading manufacturer based in India.
Additional Information:
Pay Mode Terms: L/C (Letter of Credit),T/T (Bank Transfer),D/P,D/A
Get a Quote